I loaded up the Fazer, put the route in my Zumo 550 and packed trousers, teashirt, spare socks, underwear, toothbrush razor, tools, compressor and paperwork in my top box on Thursday night. No room for spare shoes but I would not need any. I rode in to work in Bristol on Friday as I wanted to get out of Bristol and round the M25 before the traffic built up. The ride started when I left work at on Friday to go to the Chunnel in Folkstone. The traffic was heavy but I still managed to get on the 1715 train through the Channel Tunnel. On the train I got chatting to Glenn on a lovely looking golden Harley who agreed to sign my start witness form.
Leaving the train I called into the garage at the terminal to get my start receipt at 1908 giving me 23 hours to get to

Berlin

for the 1800 photo opportunity at the Brandenburg Gate. I first headed north then east through Belgium, Holland and into Germany.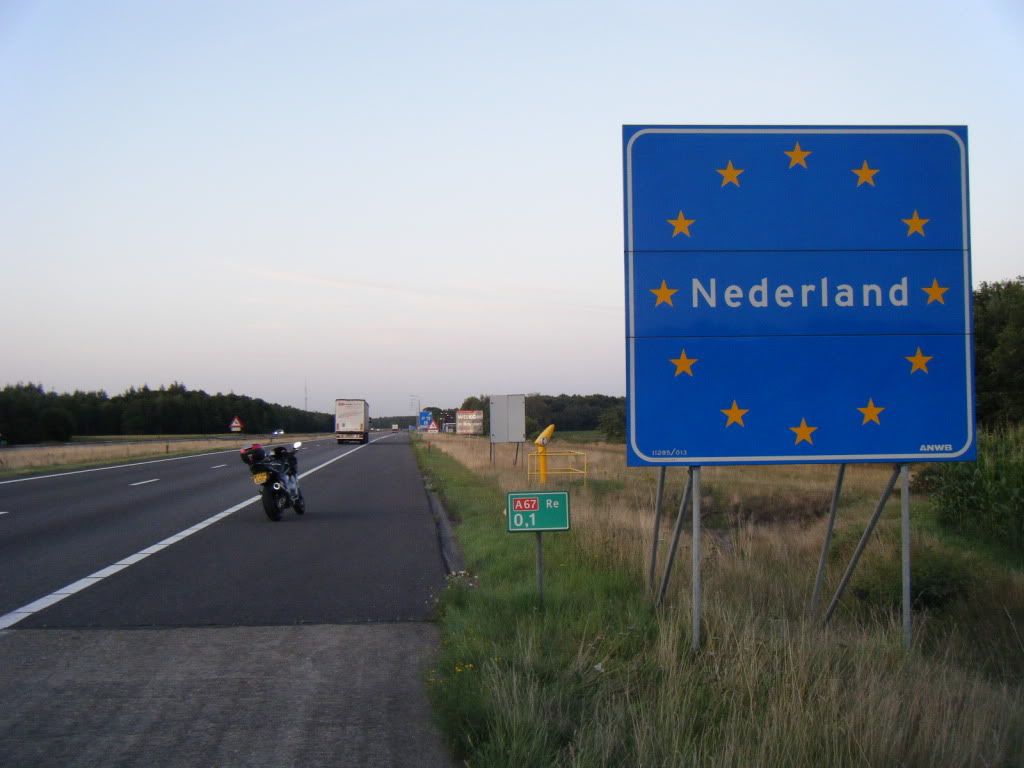 In Germany on the autobahn I was able to pick up the pace with the clearer roads and drivers more appreciative drivers who move out of the way. Crossing the river in Cologne at night I had a brilliant view of the Cathedral all lit up on a bend in the river. It was a bit chilly and I was glad I had put the lining back in my Hein Gericke jacket. Under it I was wearing just EDZ thermal two piece. I saw a thermometer that read 13 degrees C.
As daylight approached I was in Austria and starting to feel a bit washed out so decided to stop in a picnic area where I booked into the "Iron Butt Hotel" for a 10 minute power nap on a picnic bench.
I was awoken by what seemed hordes of Eastern Europeans with families presumably heading home but felt completely refreshed. Stopping at the next service station for fuel and a coffee I noticed they had vignettes for sell to allow access to the Austrian autoroutes so bought the minimum of 10 days. I would only be there a few hours!
I knew this route having been this way before so it didn't feel like I was riding off the end of the world into the unknown. The scenery was typical rolling landscape with occasional hills covered in pine trees. The sun was coming up as I approached Bratislava , Slovak Republic on a new road (EU money I suspect)and a Tesco supermarket.
Looking at my list on the tank I should have been here at 0815 and I was just ½ hour late which usually happens as the pace slows at night. I also knew I had a couple of spare hours built in. In the early sunshine it soon warmed up and I was comfortable though a little warm when I stopped. I always carry food and drink and was having a bit of each every time I refuelled.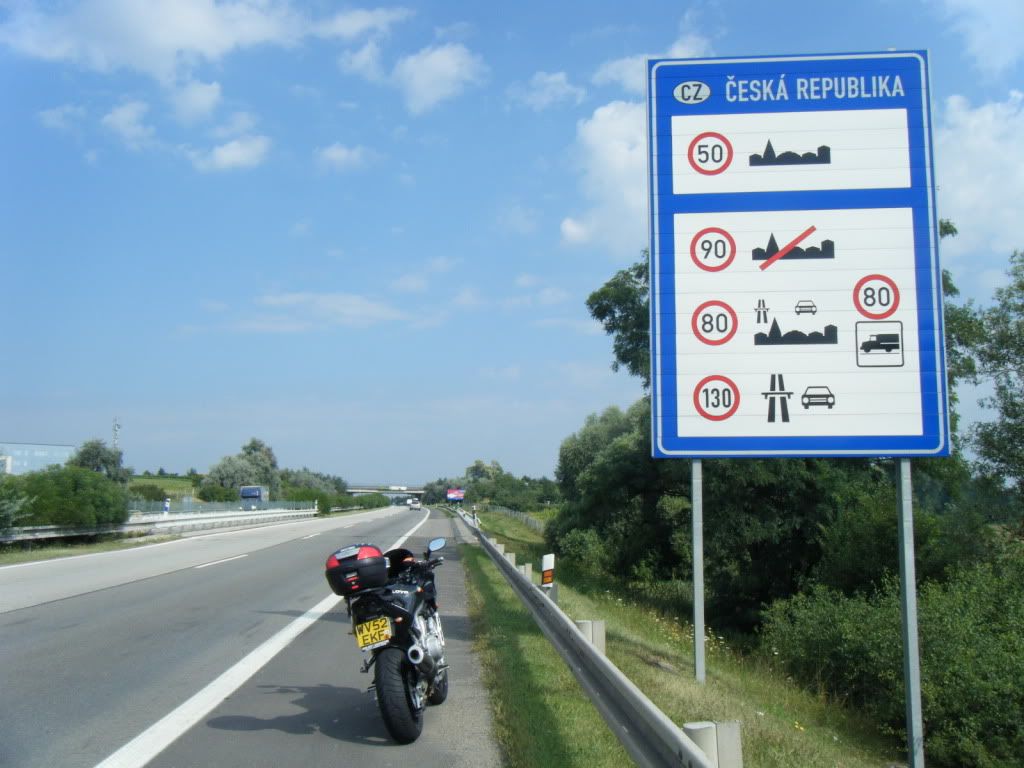 Heading north I went past Brno in the Czech Republic.
There were road works there and I needed to filter for several miles but was half hour ahead of my schedule when I got to Prague around lunch time.
My route took me to the end of a motorway through some back streets onto another motorway in the middle of Prague but even though it was Saturday lunch time it wasn't too busy. Crossing the river I had a lovely view of the Castle on the hill.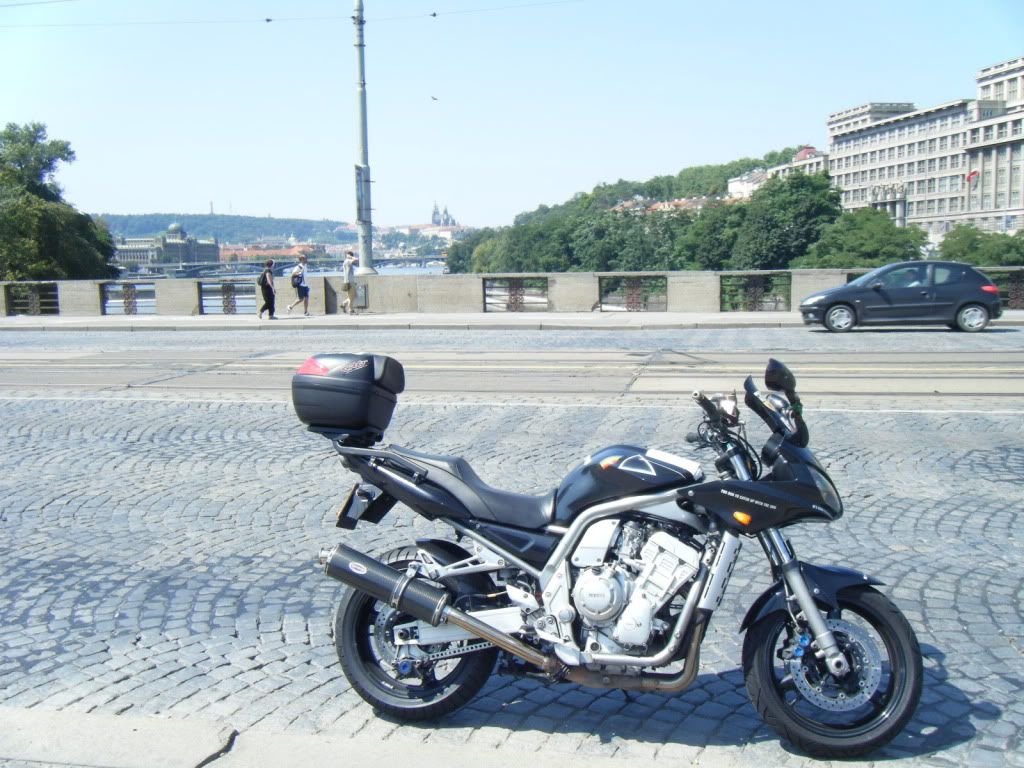 North of Prague I headed to Dresden and as I crossed the German border the terrain became distinctively more hilly and scenic. I arrived at a garage near Cottbus at 1500 where I was to meet three German friends at 1600. I got chatting to a BMW rider who was there on a ride out for the day locally. I also took the opportunity to eat a roll with meat and cheese and a coffee. With time to spare I again booked into the Iron Butt Hotel for a nap. Matthias, Bernt and Toby arrived at 1545 to ride into

Berlin

with me. As I had the Zumo I was sent to lead the way in which seemed to follow several tunnels without too much traffic. On the way I decided to go straight to the Hotel in InvalideStrasse as we would be early if we went to the Brandenburg gate. Outside the hotel I met Roger who signed my end form for the SS2000K and I bought a beer in the bar for my end timed receipt at 1722.

So far I had covered

1500 miles in the last 28 ½ hours.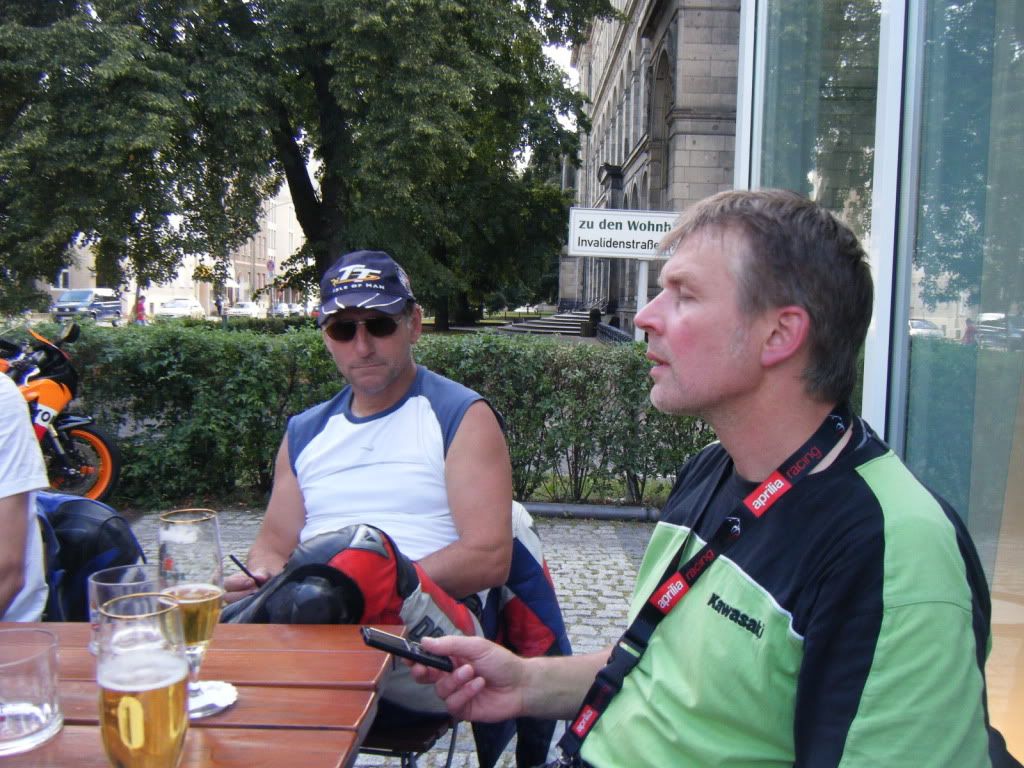 Bernt and Matthias outside the hotel.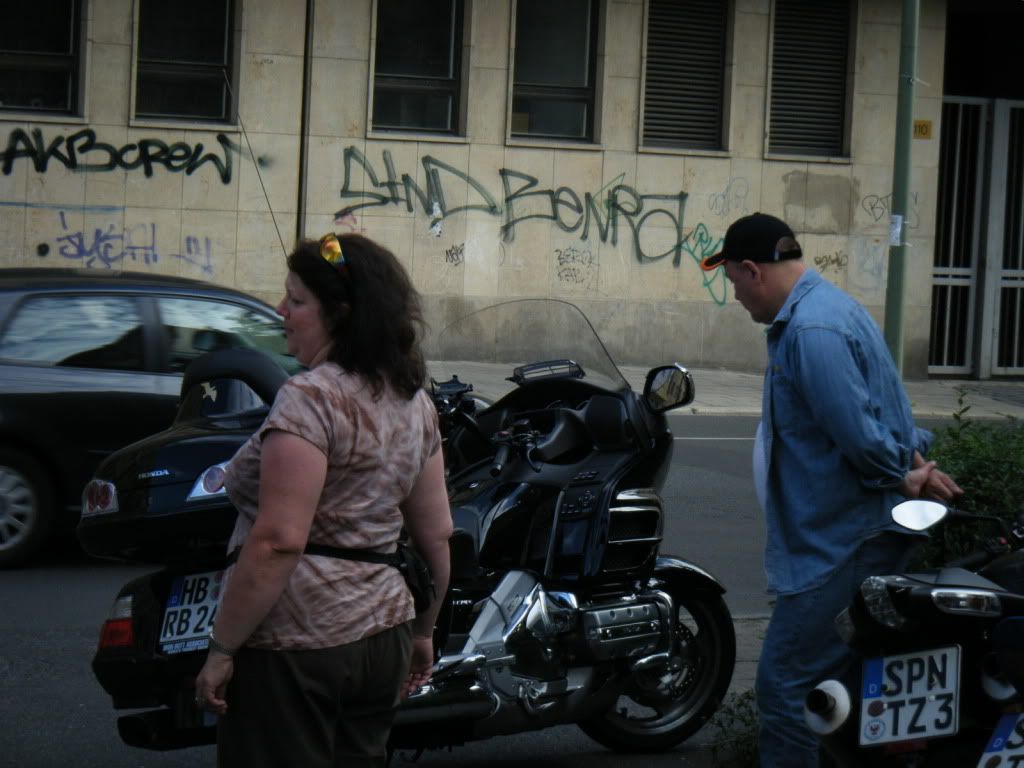 John couldn't resist admiring a non triumph
A quick shower then it was of on the inaugural Iron Butt UK hike. Roger, John and Sonia, Dan and Vicky walked to the Brandenburg gate. Matthias, Bernt , Toby rode over with Raimond and Vicky so they could take pics for us. At the Brandenberg gate we found Mark and Emma who sold me my

Berlin

Blitz badge (the only place and time it was available).
Matthias and Bernt at the Brandenburg Gate. Fort many years they had lived trapped in the East. Then English Rob arrived to be in the pic before riding back to Nottingham! I thought I was nuts. Goodbyes were said to some and the rest of us headed back to the hotel via a souvenir shop to get the obligatory stickers for the screen.
Back at the hotel beers and currywurst were ordered as we settled in for the evening. Little Toe arrived and managed to get a room for a short kip before heading back.
I later had to eat a second meal for additional sustenance. There was no consensus on who was going back and when so goodbyes were said then it was off to a good nights sleep at 2330. My 1st since Thursday night!!
Arising at 0700 it didn't take long to pack, a big advantage of not taking too much. I had decided to get breakfast on the way. John, Sonia, Dan and Vicky were leaving at the same time so goodbyes were said again and it was off to the Brandenburg gate for a picture of the bike.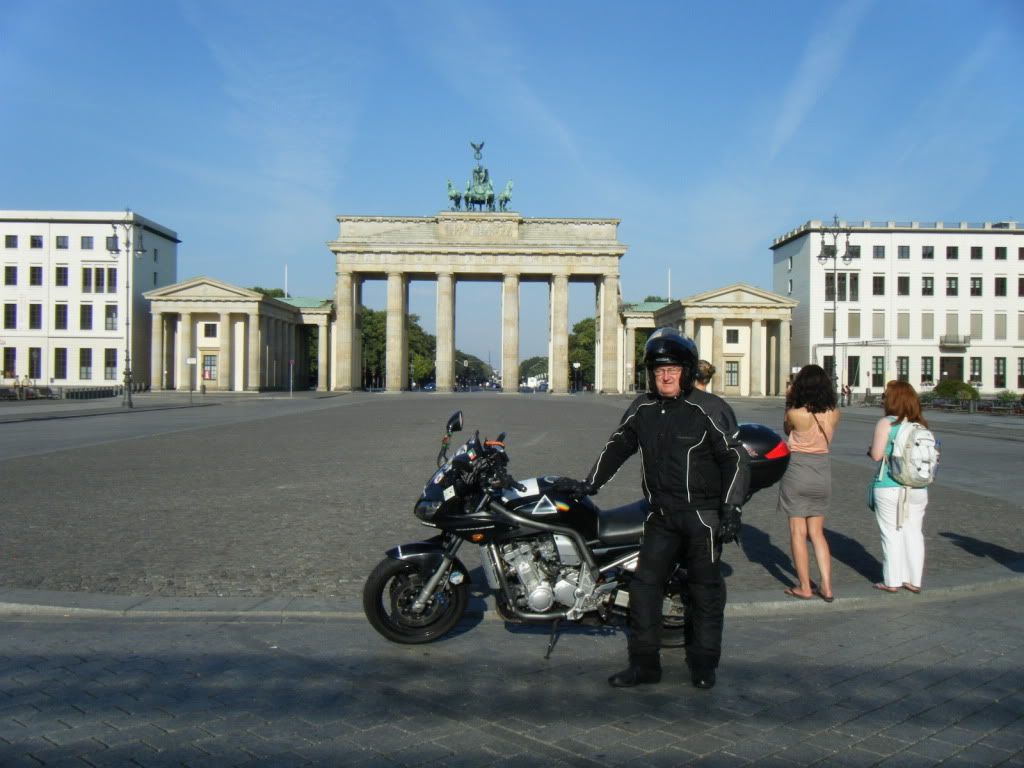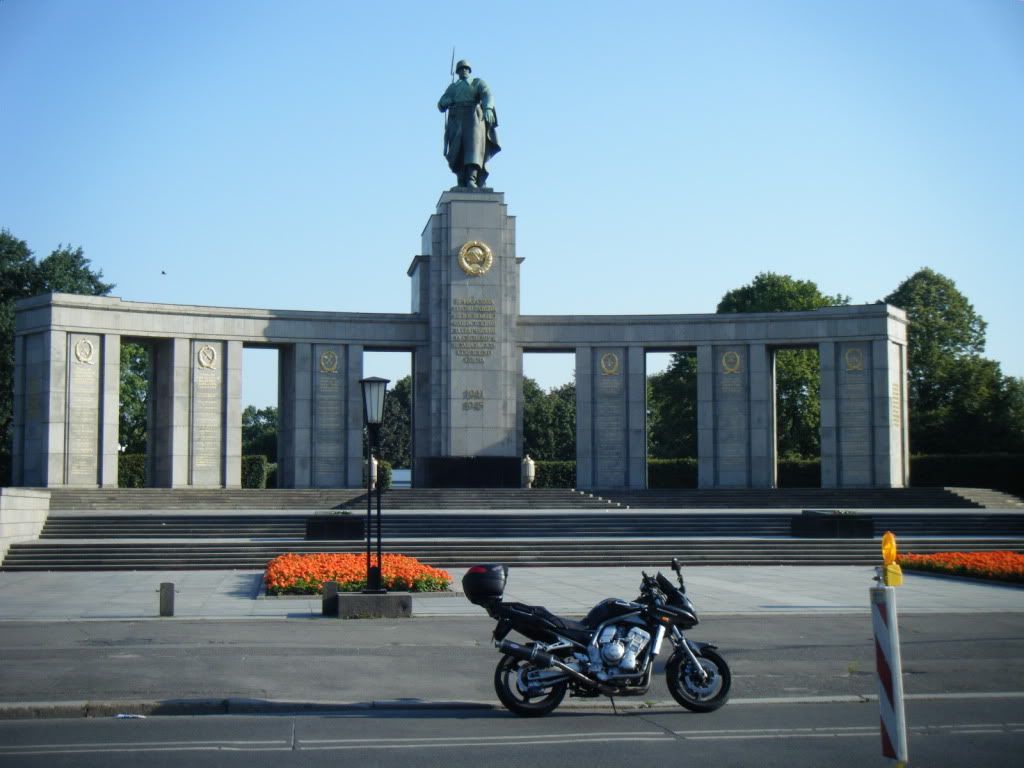 I noticed that if I ignored the Zumo I could go directly west on a wide avenue and meet the route.
There wasn't much traffic early Sunday morning. It was fine until I took the wrong direction on the Autobahn. As I left

Berlin

I stopped at the 1st service for fuel and who should be there but Dan

downing a baguette. He left as I went in and I decide breakfast just had to be sausage and bread with mustard washed down with a coffee.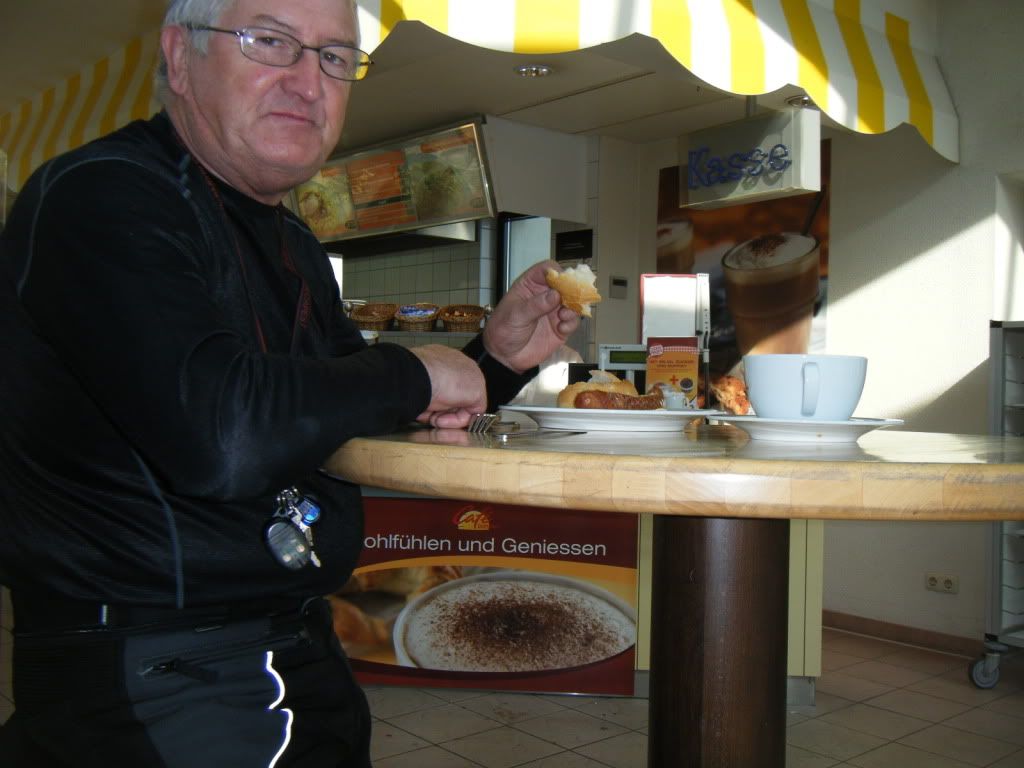 Heading west the 1st part of the trip consisted of mile after mile of straight autobahn. I had always figured it was the stretch build to get to West

Berlin

via the shortest route across East Germany.
The trip was largely uneventful until around lunch time. I stopped for another snack and filled up at an Aral fuel station. Their pumps are confusing as it is all blue so I took a time to make sure I got 95 blefrei. 10 minutes later and in the outside lane of the autobahn the fazer motor suddenly died. Coasting to a halt at a junction my mind was racing, had I put the wrong fuel in. Stopping I had nothing to loose so hit the starter button and it started 1st time with a bit of a backfire. Taking off I cruised slower in the nearside lane and tried to decide what had happened. It couldn't have been fuel as it backfired due to unburnt fuel in the exhaust when I restarted. It must be electrical. Side stand switch, neutral switch, kill switch or a chaffed cable shorting something. It couldn't be anything too drastic as the motor was running fine. I took it up the 7000 revs as that is where the exup valve works and it was fine. Gaining confidence I sped up and half hour later it happened again. I coasted into a picnic area. Again it started fine so I tried out the kill switch, side stand and neutral switches to see that they worked ok. They did. I removed my phone charger under the seat as it had a bare end though I couldn't see how that could stop the motor.
So with only 500 miles to get home there was nothing to do but bash on. I decided I would increase the speed in 10 mph increments every 15 minutes so if it happened again I could stay below that speed. I eventually got up to the flow of the traffic and maintained it through the rest of Germany, Holland and into Belgium.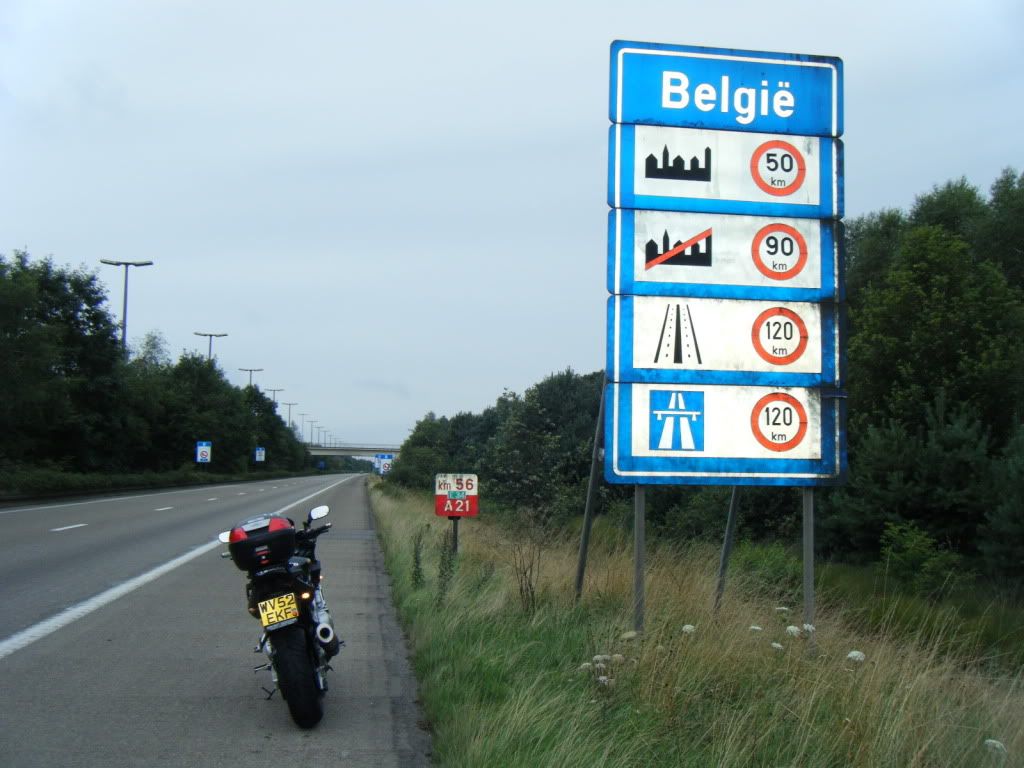 There was a bit of a shower near Hanover. It seemed to have cured itself.
I stopped in Belgium for my last continental fuel stop and bought a ham and cheese roll and a continental strawberry tart to eat on the train.
I arrived at the terminal around 1700 and ended up chatting to the book in clerk about his Ducati Monster as the queue built up being.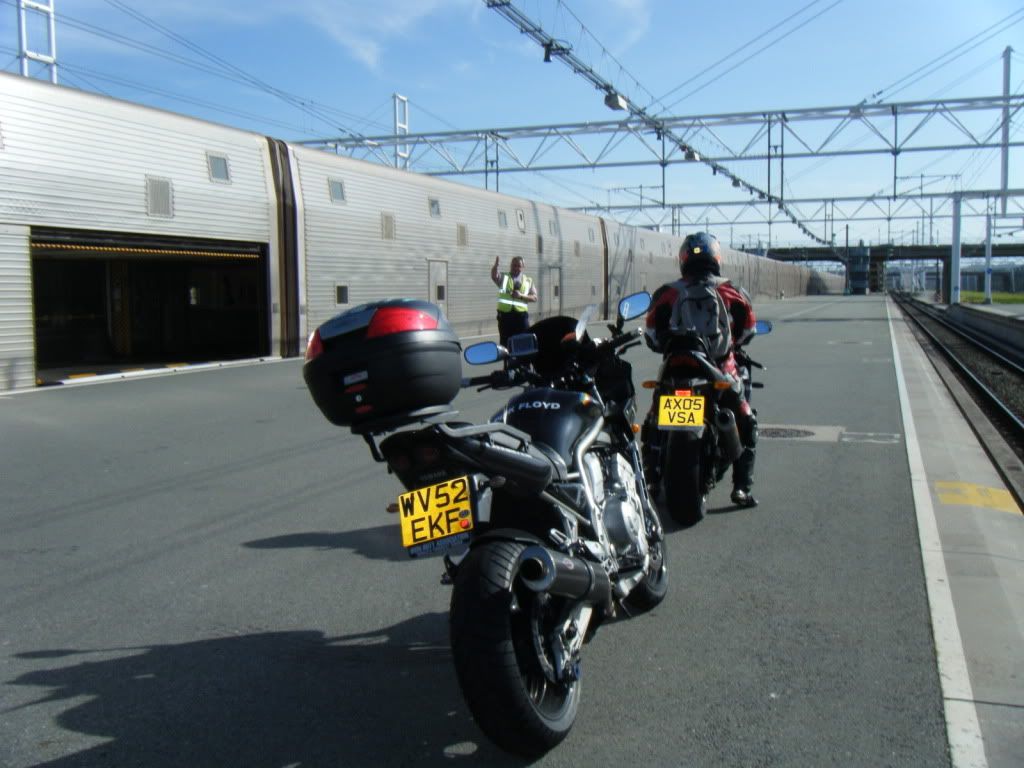 On the train I chatted to a biker from Greece on a GSXR750 who had just ridden up from Monaco.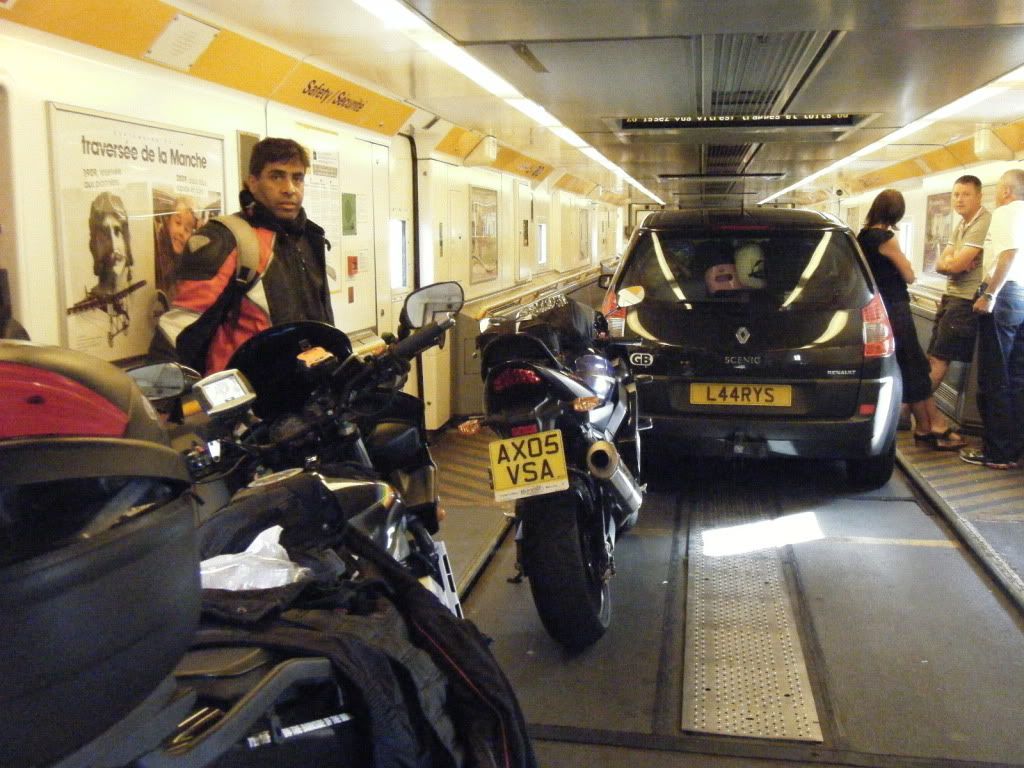 It's the 1st time I have used the tunnel and I have to say I was impressed. Out of the terminal and back onto the M20 within minutes. I was conscious of our lower spped limits so took it easier. It does make me wonder though why 81mph (130kph) is a safe speed on the continent but dangerous and illegal in the UK. I was away from the chinnel around 1800 for an uneventful ride to Bristol there was a storm after Chippenham but that was all. I got home at 2110.
Away from Bristol for 55hrs
7 ½ hours sleep and some power naps
Paperwork for a SS2000K to be verified and around 1000 other miles ridden making a total of 2330 miles through eight countries.
__________________
Phil Weston
IBA432
President Iron Butt UK