Ride To Eat - Castle Bran, Romania - 25th June 2016
Executive Summary
Poorly planned and poorly executed ride to the middle of Romania; rider turns to gibbering idiot on arrival, has to cancel rest of trip and kick his heels for two days waiting for a mate to fetch his spare keys; aimless ride home across six countries. Multiple stays in Iron Butt motels, no certified rides. Long, rambling, trip report containing mind-numbing details and some photos.
Planning & Preparation
When the schedule of ERTEs for 2016 was announced this was the standout destination. What's not to like? Dracula, Transfagarasan, Transylvania, 1500 miles each way. Who wouldn't want to make such a ride for supper with your mates?
During planning it became obvious that Romania wasn't going to be a BunBurner ride, a SaddleSore to Budapest was definitely on but further east achievable progress just wasn't up to BB pace. Unfortunately that's about as far as my planning got. For a variety of reasons I didn't plan the ride in my usual amount of detail and I didn't prepare myself as I normally do, I opted to just wing it. I decided not to bother recording any rides and I even went to my local for a couple of pints the night before leaving.
Day 1 - Thursday
On Thursday 23rd my planned 0800 departure was executed promptly at 0840 and I was soon filtering through rush hour traffic past Farnham, filtering along the Hog's Back, filtering past Guildford, filtering up the A3 until I turned onto the M25 where I filtered gently through traffic moving at around 25mph for a short while before reaching the flooded section which halted the traffic. I then had to do some serious filtering to get past the holdup and that's when the forecast heavy rain started. The forecast was for heavy rain in Kent followed by heavy rain in France so I was wearing my boil-in-the-bag rain suit from the off.




On arrival at Eurotunnel I was greeted by the friendly check-in terminal giving me a ticking off about arriving too late and offering me a 90 minute wait for a train. The noticeboards all apologised for the 30 minute delay so I went for the traditional waiting for a train Burger King. Venturing outside again, still wearing the rain suit, I noted the further, strangely precise, 14 minute delay and chatted to a pair of rather cute Scotties guarding their master in the sun.




When my train was called I rode through the police and passport checks and joined a small group of bikers in lane 7. Two were off to Assen for the MotoGP, one Englishman returning home to the French Alps on his Harley. They told me that another rider was also heading to Castle Bran and, thinking he's probably one of us, I went to speak with him. "This Saturday? I'm hoping to reach Bran next Thursday". Not one of us then.




Emerging in France it didn't look much like heavy rain but a plan is a plan so I kept the rain suit on. The temperature was gently climbing and the skies continued to look a bit on the blue side but the plan called for me to retain the suit until Brussels so that's what I did. 36 degrees on the Brussels ring road when I peeled it off. The temperature stayed there for the rest of the ride, all the way to Bran.




I needed petrol and this was the wasteland. Rather than do their silly dance with card payments I decided to pay cash and only draw a predictable amount of fuel. I walked in to the cash desk and asked for, paid for, and got change for, 15 litres. She told me to return afterwards for a receipt. I didn't see the point as I didn't actually need a receipt but I thought I'd just return anyway. The pump clicked off at exactly 15 litres, the exact amount I'd paid for and got change from. I returned to the cash disk and she gave me more change!




Intending a long first day, I'd booked a motel room in Linz, Austria and when I left Calais ETA was showing as 2345, late but manageable. By the time I reached Cologne it had slipped into the early hours and was looking much less manageable. Eventually, just outside Frankfurt I decided enough was enough and checked into a motel, had a shower, rinsed out all my clothes, then slept for a few hours.
Day 2 - Friday
When I woke up and checked the BBC and discovered that the referendum had produced the worst possible result, a slim majority for Leave. (a large majority would have been ok but a slim majority would produce the largest possible amount of dissent and dissatisfaction). The night manager was just going off duty as I packed the bike and expressed surprise at the result and concern for the wellbeing of the UK, sympathies repeated several times along the journey to Romania.
On crossing into Austria I stopped to get a vignette when my son phoned wanting to chat on his long coach ride from Portsmouth to Grimsby (all things are relative). Several minutes standing around in bike leathers in that heat meant that when I was done I scurried along a few hundred metres to the services where I was introduced to the sheer delight of iced coffee. How had I reached this vast age without encountering that before!
Riding along the motorway I noticed that the standard of driving in Austria was quite a bit lower than that routinely found in Germany. Even cars bearing German plates seemed unable to remain in the correct lane or to use their indicators. I also noticed the signs telling, not advising or suggesting, telling drivers to form a lane for emergency vehicles in the event of traffic jams, with diagrams even. How sensible is that! Of course they shouldn't need to be told, they should just know to do that anyway but, on the other hand, it wouldn't work in England where large numbers of drivers are unable to stick to really simple rules like use lane 1 unless you're overtaking.
On the approach to Vienna I opted to follow the road signs to Budapest rather than my satnav. After recalculation, ETA had slipped by one minute - sometimes the computer knows best!
The Austria/Hungary border is a busy location even at midnight with several kiosks apparently all involved in the sale of vignettes. I say apparently because they all appear to be slightly different and I couldn't tell whether that reflected functional differences or merely appearance. Priced in Hungarian Forints, exchange rates were offered for US dollars, three quantity bands for Euros and British Pounds although the rate for this was blanked out - volatility in the market I imagine. Anticipating a process similar to those in Austria and Slovenia I was surprised to need my passport and bike registration number. I was given what looked like a slightly fancy Tesco till roll but with my details and bike registration. I went to a different kiosk, with no queue, and asked about the sticker for the bike. No need in Hungary, the motorways are covered by cameras and the system is fully automatic. Once I registered at the border the system knows about me and that's that. I feel a little cheated actually, how's anyone going to know where I've been if there's no sticker to prove it!
Sometime after passing by a darkly slumbering Budapest I decided that it was bed time so I pulled into a rest area, parked the bike, then lay down in front of it and went to sleep. The temperature was still in the high 20s and some car drivers also decided that sleeping outside was the thing to do.
When I awoke just before dawn I was able to appreciate the provision of outdoor washing facilities. (There were indoor facilities as well but when in Rome ...) Much fresher!
Day 3 - Saturday
A very pleasant early morning ride through the countryside to Szeged and on to the Romanian border where I encountered the first traffic holdups since the M25.
Filtering to the front of the line at a border checkpoint really would be the queue-jumping that some accuse us bikers of so I used the time waiting in line to remove my night-riding layers ready for a warm day's ride. Some van drivers weren't bothered about the queue-jumping thing though and just filtered anyway.
After travelling only a short distance in Romania I started to fret about my tyres. In the UK or western Europe I'd consider them to be just fine but I was starting to feel less sure-footed now and I knew it would only get worse. We've all seen the pictures of the Transfagarasan highway! Passing through Arad I kept an eye out for a tyre shop but that only led me to rougher and rougher surfaces. After riding pretty much all around town and finding several places selling car & truck tyres I decided that I was just going to have to stick with my worn Bridgestones.
I needed to be in Bran by 1600 for the photo or I'd never hear the end of it even though I'd reached Verdun with 20 minutes to spare. ETA was now showing 1450 so I rejoined the A1 motorway heading south towards Timisoara then eastwards. I stopped for fuel and lunch with views across open countryside to the mountains. Baguettes were the order of the day and where the pump attendant was desperate to talk to me but had no English and I had no Romanian. Obviously I tried the old speak slowly and clearly in English thing but I've found over the years that that method doesn't always work as well as you might think.
The motorway continued as far as Deva when it was suddenly closed. We were diverted onto a single carriageway running largely parallel to, and with a clear view of, the motorway. After 12 kms we rejoined the motorway. Absolutely no idea what that was all about, perhaps they were keen to mimic the Germans who also seem to randomly shut stretches of motorway, although in Germany they're mostly doing roadworks at those points. ETA was now 1540.
I came to the city of Fagaras in Brasov county. The cathedral can be seen quite far out and it is a real eye-catcher with its shiny golden crucifix and domes and ornate workmanship. I stopped to take a photo but traffic made it awkward and, in any event, my limited camera skill means that I wouldn't be able to do it justice. I have searched the internet for images and found none which, in my opinion, properly convey the majesty of this iconic church. Visit Fagaras and see it for yourself.
From Fagaras the roads become decidedly "interesting". They climb up into and over the mountains and twist and turn quite a lot. The surfaces appear to have been laid 80 or 90 year ago and subjected to many patchings ever since. It's not uncommon to find tarmac, concrete and gravel within a few hundred metres. Then there are the road users: modern 40 tonne lorries, 1930s tractors, cars, vans, touring motorcycles, horse-drawn carts, bullock carts, goats and cows as well as small children playing football and old people riding bicycles. ETA is slipping back ...
Castle Bran - 1558
I turned onto the main drag in front of the castle with two minutes to locate the other attendees. Fortunately one of them was flagging me down and I pulled over and parked up. We were shortly joined by the only other punctual rider and we set about taking the official photograph. With no flag, we had to improvise and agreed to use my cap badge. I was tasked with capturing the image: the three of us, the cap badge, castle in the background.
As you can see, I nearly managed that.
The next task was to check in to my hotel, the Transylvanian Inn, two kms out of town. This entailed offroading up a 750 metre, 30% gradient, loose chalk track made for use by qualified advanced mountain goats. Alright, there was
some
exaggeration there but I was very hot and very tired, my bike was loaded with camping, walking and swimming gear (I'll explain later) and I stopped in the middle because of cars coming down the hill. I had three goes at restarting the climb, stalling each time, before shamefully handing the bike over to Mike who just made it look easy :(
I trudged up the hill carrying my luggage, removed to make the bike lighter, and by the time I reached reception I was on my last legs - I'm quite old you know - I staggered upstairs to my suite with this view ===>
I then returned to my bike to retrieve the satnav and generally make it secure. Oh dear!
I fumbled and dropped my bike keys into the gap below the handlebars. I reached in to fish them out and they slipped through my fingers and disappeared into a parallel universe!
The keys are lost
I couldn't believe it. I put everything down and examined the scene carefully. I poked about and shone a torch in the hole. I checked the ground all around the bike. Mike returned and he and I repeated the whole looking, poking and questioning my sanity thing. "Where are your spare keys?" "Safe, at home on my desk, let's go have a beer".
We adjourned to the other hotel where we were due to eat. There were now four of us and we discussed options, whether or not to call the breakdown service and, especially, getting the spare keys couriered from home. The V-Strom key is a bit of a critical component: coded ignition with immobiliser won't start without a key; can't dismantle fairing and fuel tank without removing seat, secured by the key. The four of us returned to inspect the bike again. We "dropped" the bike on either side, we bounced it on and off its centrestand, we poked and rattled and shone torches - nothing. I emptied all my bags and pockets just in case I'd "forgotten" that I'd rescued the key. A theory was developed that the key had fallen through the bike onto the ground and been spotted by a sharp-eyed potential bike thief. We considered turning the bike upside down but decided that would a) risk injury to ourselves; b) damage the bike; and c) be unlikely to improve the situation.
So, arrange courier in the morning then. Back to the other hotel to welcome the latest arrival who'd left Bristol after work on Friday and would be leaving at 0400 to return in time for work in Bristol on Monday.
Day 4 - Sunday
All the proper riders, those who carried spare keys and didn't drop them in stupid places, left at the crack of sparrows so I got on and started the process of having mine couriered from home. The first step - get my wife to have the keys in her hand. That was a bit of a problem because my wife is a very tidy person and I'm not. The keys were on my desk where I said they were but she needed some persuasion to actually locate them. The second problem came later when I called to find whether she'd handed them over to DHL yet. Apparently there was some problem with the computer systems at the particular pickup location I'd sent her to and it couldn't be sorted until Monday.
One of the reasons I couldn't strip the bike while all this was going on, apart from needing the seat out of the way, was that all my tools were secured under the seat - no key, no tools. In addition to the several times I ventured out to the bike to "just check" (perhaps the keys might have rematerialised through the timewarp again) and the time I spent seeking advice from various forums - none of whom correctly predicted the actual location of the keys - I walked into and around the town of Bran in the hope of buying some tools that might help. No, there weren't any.
By late afternoon, with all options closed for the day, a miracle occurred. The IBA is widely known for the insanity of its members and one such, another Mike, thought he might just fancy a ride from his home in Scotland. I called my wife to confirm that she still had physical possession of the keys, warned Mike about the hazards of the journey then he set off to fetch the keys from my house in Hampshire.
I once again visited my bike to check that the keys hadn't magically reappeared then retired to the hotel's restaurant to enjoy Romania for a while.
Day 5 - Monday
I woke up before dawn on Monday and checked Mike's SPOT. Major disappointment, he hadn't even left England yet! C'mon Mike, what are you playing at? Then I looked at the time, deducted the two hour timezone difference, calculated the distance he'd travelled from Scotland, calculated how long that would have taken me and decided that he was doing ok. I went back to sleep for a while.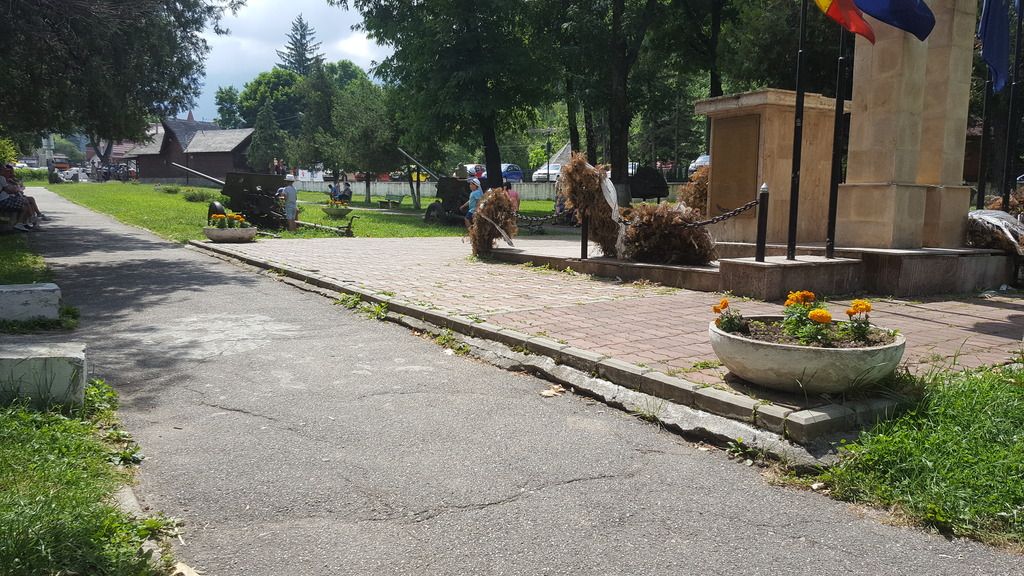 When I next checked his SPOT, he was making pretty good progress so I inspected the bike once again then set off to explore Predelut, Bran and the surrounding area. With the temperature easing slightly and way fewer tourists it was a very pleasant excursion. In the park I found some children aiming field guns at the west, they train them young in Romania.
I walked far enough to encounter a homeless man having his lunch in a bus shelter being interviewed by a local policeman. I also watched two middle-aged men with shirts off in the heat using long-handled spades to dig graves in the local churchyard.
After saying "good morning" to several people and getting no response I mastered the Romanian "Buna dimineata" which caused people to cheerfully acknowledge my presence.
Predelut is a fairly pretty village with all manner of gardens and houses. Construction seems to focus on "breezeblocks", different from those I've seen before, with various kinds of cladding.
In summer it's a hot and dusty place, high 30s, in winter clearly very cold. Many houses had very large wood stores for use with wood burning stoves.
In addition to swanning around town I considered and ultimately decided to cancel the rest of my planned trip itinerary. It had been my intention to head due west from Bran spending a couple of days riding to Annecy in the south of France. In 1966 I had swum the width of the lake there and last year I decided that as it would be 50 years since that event around the time of this RTE I'd go back and see if I could still do it. Despite not swimming for many years I had been slowly building up and a few days before leaving for Romania I'd managed to swim 3.2kms in my local pool. Lac D'Annecy is 3.2kms at its widest point so I should be ok. Anyway, I'd brought with me camping gear, walking boots and a wetsuit - yes, a wetsuit, it's a lake, the water would be 12-15c, I'm old now, I don't need to be tough anymore. I cancelled the hotel booking and arranged for my wife to cancel her flights to/from Geneva. I'll have to swim the lake some other time.
Day 6 - Tuesday
Waking early on Tuesday I checked Mike's SPOT and noted that he was only a couple of hours away. I set off on foot to buy beers for him (and more water) and eventually reached a small mini-market in Bran where I had a choice of two: one that I'd sampled myself but came in large, heavy, glass bottles and needed a bottle opener and one that I hadn't sampled but which came in light plastic screwcap bottles. I opted for the plastic bottles as I would have struggled to carry the glass ones back (see, I really am a lightweight aren't I!)
I returned to the hotel to get things ready. I was just starting to pack up when the sound of an FJR alerted me to Mike's arrival 15-20 minutes sooner than I expected him. I went out to the carpark and presented him with a bottle of beer which he thought would be welcome right away. He handed over my spare keys and then spent several minutes trying to locate the lost keys, without success.
While Mike retired to my room to shower and sleep I stripped the bike. This was a fairly slow process, one that I'm not good at, and as each piece was removed I inspected the newly exposed areas for any clues as to the location of the keys. I was optimistic about finding them behind the radiator, perhaps hooked around the inaccessible spark plug but, no, still no sign or sound of them.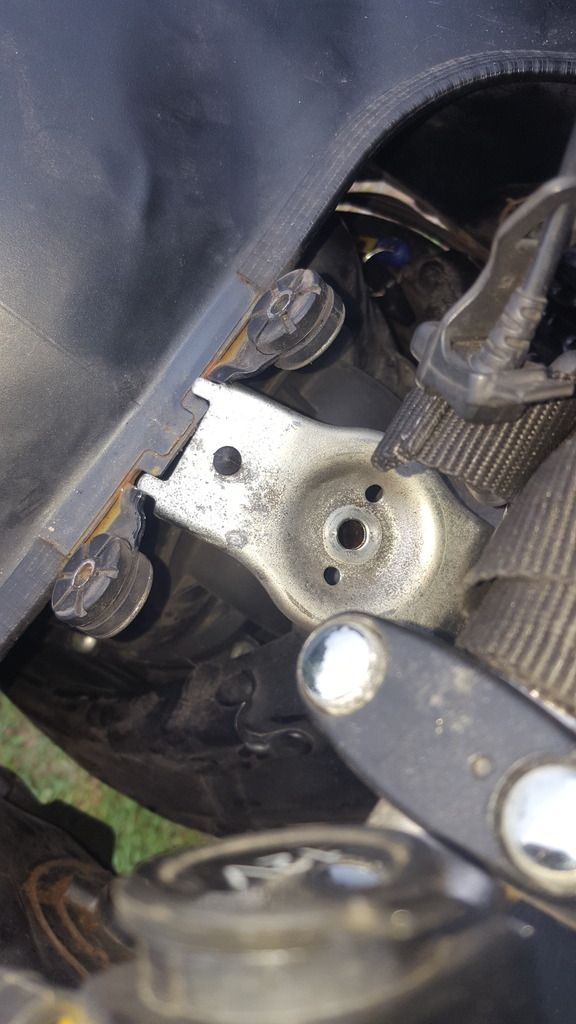 Finally, when I had the fuel tank completely unbolted and propped up, I could see a little chink of light reflecting off the keyring up in the central hump of the tank wedged against the frame. I rushed in to see Veronica, the receptionist who'd been fretting about me for the last day or so, and she managed to find a long piece of bent coathanger. I gingerly retrieved the keys and could properly relax for the first time.
I put the bike back together (apart from the three fasteners I had left over at the end, apparently Suzuki had used too many fixings when they originally assembled the bike) while the day's forecast rain started gently. Having completed that task I waited patiently for Mike to wake up.
Riding out of the mountains
Eventually we were both saddled up and ready to go. The weather forecast was for "heavy rain showers" followed by "heavy rain" then more "heavy rain" then "heavy rain showers" followed by "light rain showers" so boil-in-the-bag time! I led carefully down the 300 metre, 5% gradient, track to the road then through Bran and out onto the road to Fagaras. I did that in a very tame manner as I was concerned about things I might not have tightened properly, I was concerned about my tyres, I was concerned that I'd been off the bike for a few days, I was concerned about the weather. I needn't have been concerned, I still haven't gotten round to replacing my tyres or refixing the additional fixings.
We stopped for fuel in Fagaras where I once again declined the opportunity to photograph the cathedral and some way further on we split up, me heading for a Subway because I was fading fast and Mike heading for the coast cos he's tougher than me.
I don't normally frequent Subway because they're just way too annoying with their "what kind of bread do you want?" "Do you want this?" "How about that?" - I just want something to eat but that day location was everything and Subway was there when I needed to eat something. They said it was a B.L.T. I'm not so sure but I didn't care, I just needed to eat.
At the border the nice young lady at Romanian passport control checked my passport and asked for the bike's documents. I gave her the whole folder and she seemed happy enough so I escaped into Hungary again.
Around 60kms before Budapest I parked up and enjoyed another pleasant stay in the Iron Butt motel.
Day 7 - Wednesday
My Chunnel home was booked for 2300 Friday, almost three days away but I decided to just ride back to Calais at a reasonable pace and just see what happened. In fact I had a largely uneventful and rather pleasant ride home, passing through Budapest in daylight and noticing the widespread use of English on billboards and traffic signs.
I spent the whole day riding firstly in Hungary then across Austria and finally Germany before deciding to call it a day near Cologne. I pulled into a rest area bearing the bed sign indicating the presence of a motel but discovered that only the Iron Butt flavour was available. Many trucks parked up, many cars with sleeping occupants but no actual motel. I considered carrying on until I found an actual motel but decided that this place was as good as any. I checked the weather forecast and noticed that "light rain showers" were due early Thursday morning. I thought about pitching my tent on one of the grassy areas but in the end I just lay down on the tarmac and went to sleep.
Around 2am the rain on my face woke me up. It was only raining gently but it was enough. I was still sleepy so I thought again about pitching my tent. No, just put the rain suit on and small tarp over my head, back to the tarmac for a further 90 minutes. It had stopped raining when I woke up the second time and I decided to get back on the road. ETA Calais was showing as 0730, almost a sensible time to be crossing the channel. I rejoined the motorway and almost immediately regretted it: pitch black with at least two metres of spray.
I continued on into Belgium and found a rest area that looked more comfortable than the one I'd left earlier. I parked up intending to go and sit in what looked like a cafe. Too early though and the door was locked so I sat on the pavement, leaned on the door and went back to sleep. When I woke up I realised that the entrance on the far side of the building was open so I walked round and poured myself a large cappuccino and drank it sitting in a comfortable armchair.
Day 8 - Thursday
With a simple enough run down to the Calais I set off westwards towards Brussels eventually joining the ring road just in time for rush hour chaos. A relatively tame filterer at the best of times, I gently made progress through the massed ranks of commuters and when I saw a bike rapidly approaching from behind I pulled over to let him through. Belgian plate and off like a rocket. Not long after another bike came through, Belgian plate, off like a rocket. I decided to follow them - when in Rome ... - but they were gradually losing me. I looked down and found that I was travelling at well over 100kph through the all but stationary traffic. Great fun :)
And so, down the final stretch to Calais where the friendly Eurotunnel check-in terminal offered me the next available train at 1150 +£45. What was I going to do? Pay £45 and go home or ... what?
So home again, 3140 miles all told, time for a hot bath and a washing machine full of laundry.
Lessons learned
Not all rides need careful planning, sometimes winging it works just fine.
Your best mate is another IBA rider.
Having spare keys at home is all very well but closer is sometimes better.
There's always a vacancy at the Iron Butt motel.
You're never too old to do stupid stuff.
Bob Stammers