After some consideration I decided to ride the Euro RTE to Thessaloniki via Italy.
Day 1
My first days ride was a route across France & Switzerland to northern Italy of 834 miles. The hotel I had booked was just southeast of Bologna in a small village called Castel San Pietro Terme. I had planned the route with all the required fuel stops but gave up on these as I was getting much better mileage than expected. Not sure if this was due to the constant speed of 130k (80mph) that I was riding on the auto routes or the cruise control on the bike anyway I was happy.
This was the first time that I had ridden in Switzerland and was impressed how scenic it was, beautiful lakes and mountains. And tunnels lots & lots of tunnels (they did tend to spoil the views). There was on tunnel that was about 16k long, I think it was somewhere near the Swiss/ Italian border. Shortly after I rode in I could feel the temperature rising, so I pressed the temp sensor button on the bike to find the temp had risen 5 degrees to 25C. As I continued through I could still feel the temperature rising, 27C. In the end about just over half way through it reached a whopping 36c degrees. I thought if this carried on I would be cooked by the time I reached the far end. There was not a lot of traffic running through the tunnel, but I think the heat build-up must have been caused by exhaust gasses especially from the big trucks. As you can really feel it as you ride pass them. It was much warmer the Italian side of the tunnel.
I eventually arrived at my first nights stop the Hotel La Torretta, had a slight problem identifying the hotel as the sign looked like it said Hotel La Corretta, then realized that it was just the way they had written the T on the sign, I was pretty tired and hot. Parked up got my bag off the bike and put the padlock and chain round the front wheel and went and signed in.
Day 2
Left about 07.30am for the ride down to the Port of Bari. I had been warned by two people how aggressive the Italian drivers can be. I found them to be very predictable, If they wanted to overtake you even if you are riding at the speed limit of 80mph they just sit at about 1.5 meters behind you, until you move over. I did brake test one driver but it didn't make any difference. There was one incident when paying a toll where as you can imagine on a bike it takes a little longer. Pull up at toll, take gloves off, find ticket, insert ticket, and toot from impatient car driver behind. Get out note to pay toll, pick up change from chute, put change in pocket, and start putting on gloves. Another longer toot from car driver behind, show him I am putting on my gloves. Another toot, now getting annoyed and thought about getting off the bike and explaining that I will not be long. But then decided it would be a bit pointless as he probably would not understand a word I was saying. I think he would have understood though.
Arrived at Bari to catch the overnight ferry to Igoumenitsa in Greece. Well Bari is not what you would expect an International ferry port to look like, I will leave it at that. When I eventually made it to the correct terminal building, I checked in and had about a 2 hour wait to board the ferry. This is the sight that greeted me.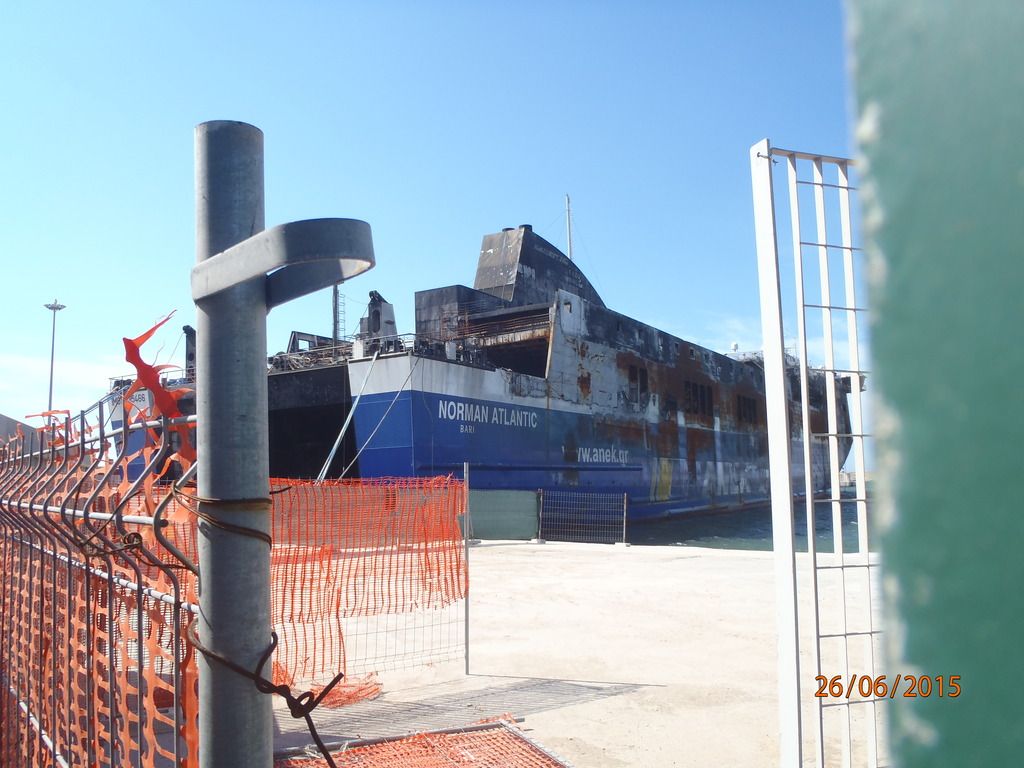 My ferry was in much better condition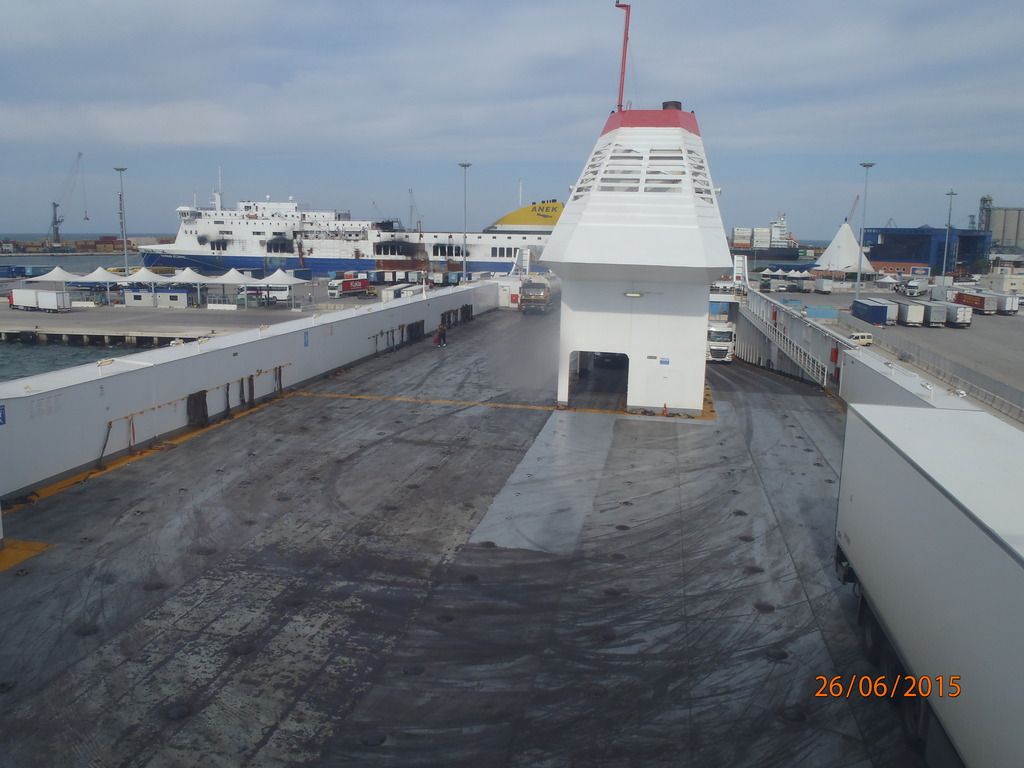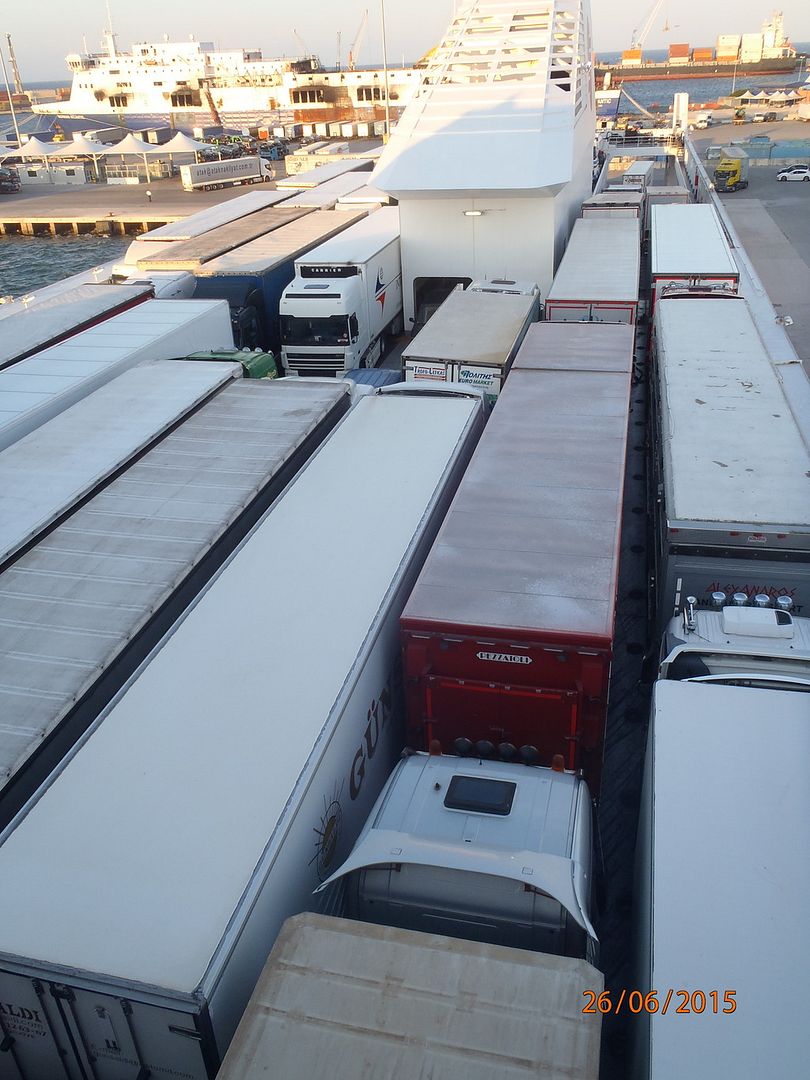 They really pack the trucks on.
I had booked a reclining seat in sleeping lounge (much cheaper than a cabin) hoping to get some sleep. This turned out to be a false hope, mainly due to a large group of young Americans that also booked recliner seats but had different ideas about what to do half the night. We arrived in Igoumenitsa early morning.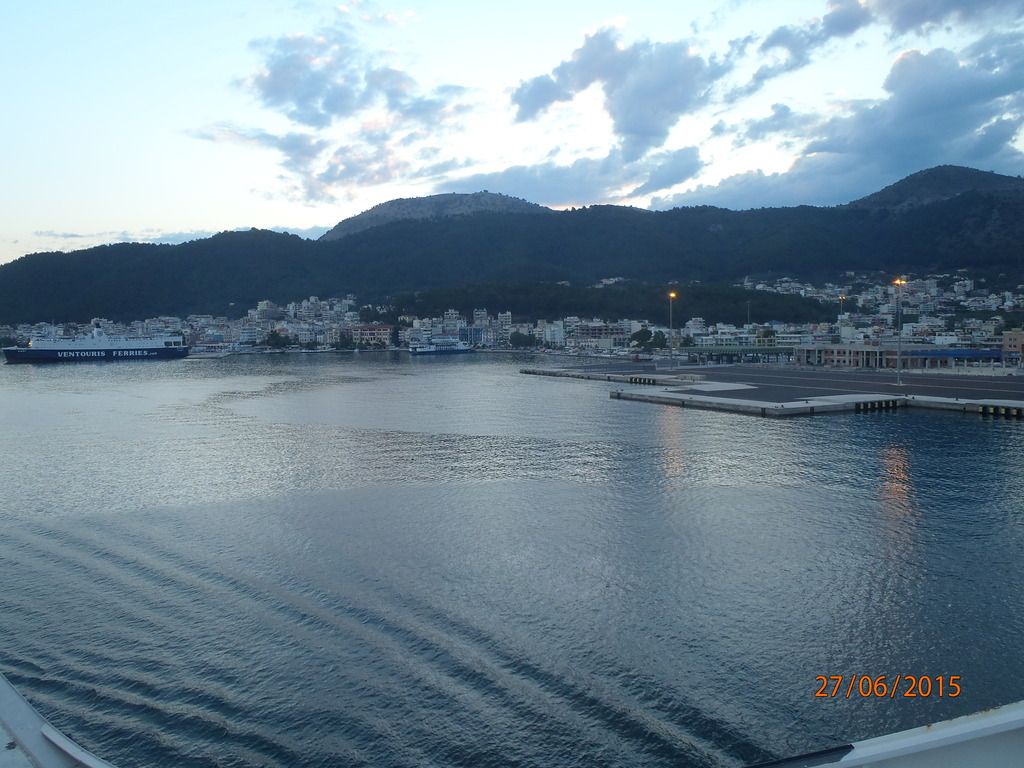 Day 3
Left Igoumenitsa at approx. 05.30am for the short 200 mile ride to Thessaloniki, the port is very similar to Bari, I will say no more. But the road leaving is fantastic, the Greeks must have spent millions? A motorway of two lanes in both directions that looked fairly new. As the countryside in the first 2/3rds of the journey is very hilly. There are a lot of tunnels and viaducts with great views. The weather here was not as hot as Italy. And it was a little cloudy but I decided not to put any waterproofs on! A short while later after exiting a tunnel, I noticed that the road was wet and there was a little spray being thrown up by the traffic in front of me. That's OK I can ride through that with the screen & fairing protection the Goldwing offers me. As I went into the next tunnel there were another couple on bikes stopped at the side of the road putting on waterproofs. When I emerged from that tunnel it was raining a little harder and a lot more spray was coming up. As I have to remove my boots to get my waterproof over trousers on. I decided that I would stop in one of the safety lay-by's that they have in the tunnels so I can keep my feet dry. I had just completed putting on my waterproofs when a motorway patrol van with all his yellow lights flashing pulled into the lay-by.
Now I am not sure if you are allowed to stop on their motorways let alone in the tunnels, so I decided to act like an ignorant tourist. The passenger casually strolled up to me as he rolled a fag, and asked if I had broken down. I explained that I was just putting on my waterproofs. Ahh because it is raining he asked? I nod in agreement. That's OK he said and casualty strolls back to his van lighting his cigarette. I get on my bike and ride off before he can change his mind. Now this tunnel turned out to be quite a long one. And when I eventually emerged out the end, it was into brilliant hot sunshine and bone dry roads. I rode the rest of the way in waterproofs.
I left the hotel at 3pm, giving myself plenty of time to find my way through the city to the Zoo which wasn't that far away on the outskirts. I had a stroll around the area outside the Zoo which is situated on a hill overlooking the city and bay.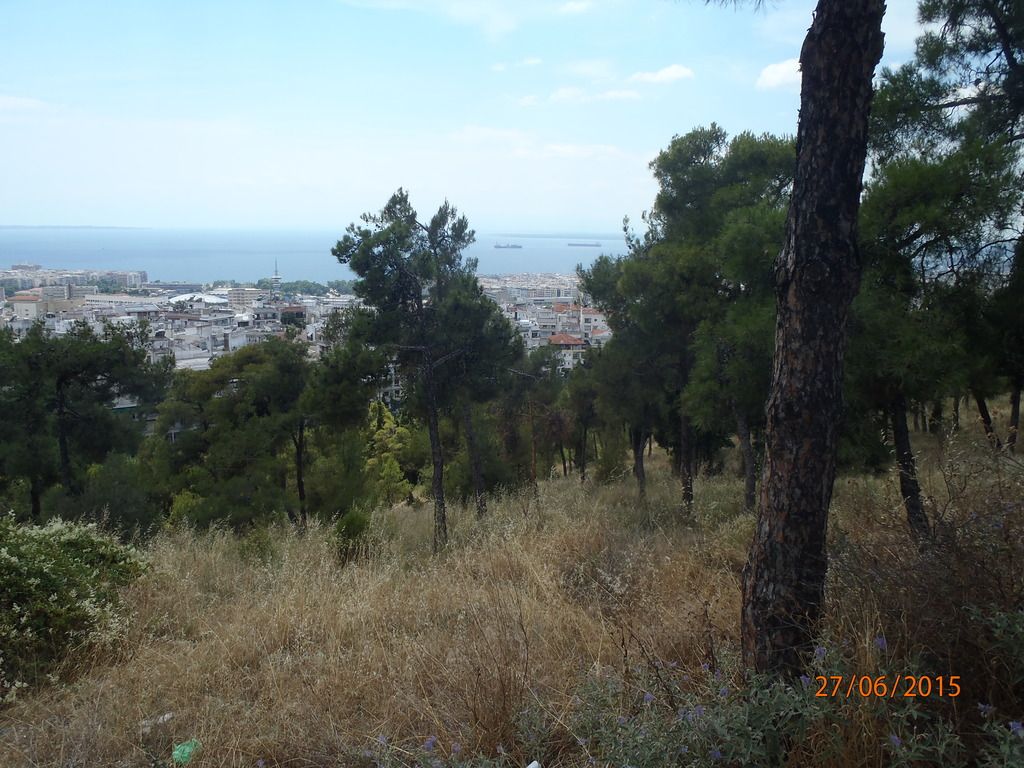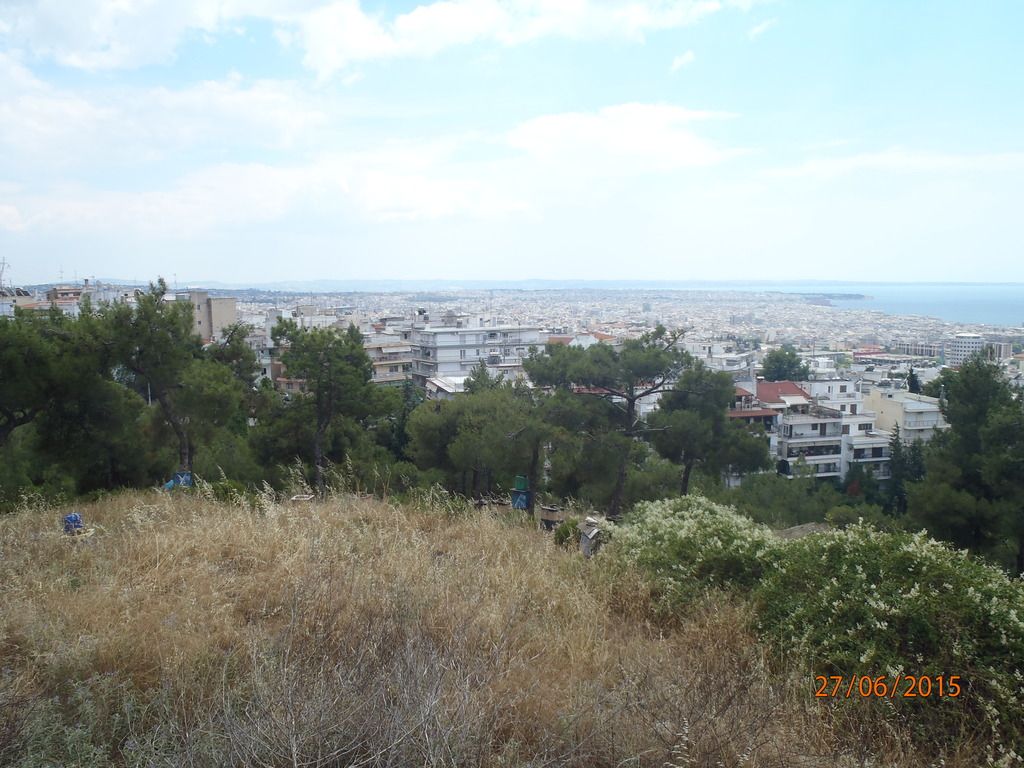 The only thing that spoils the moment was the rubbish that was laying around.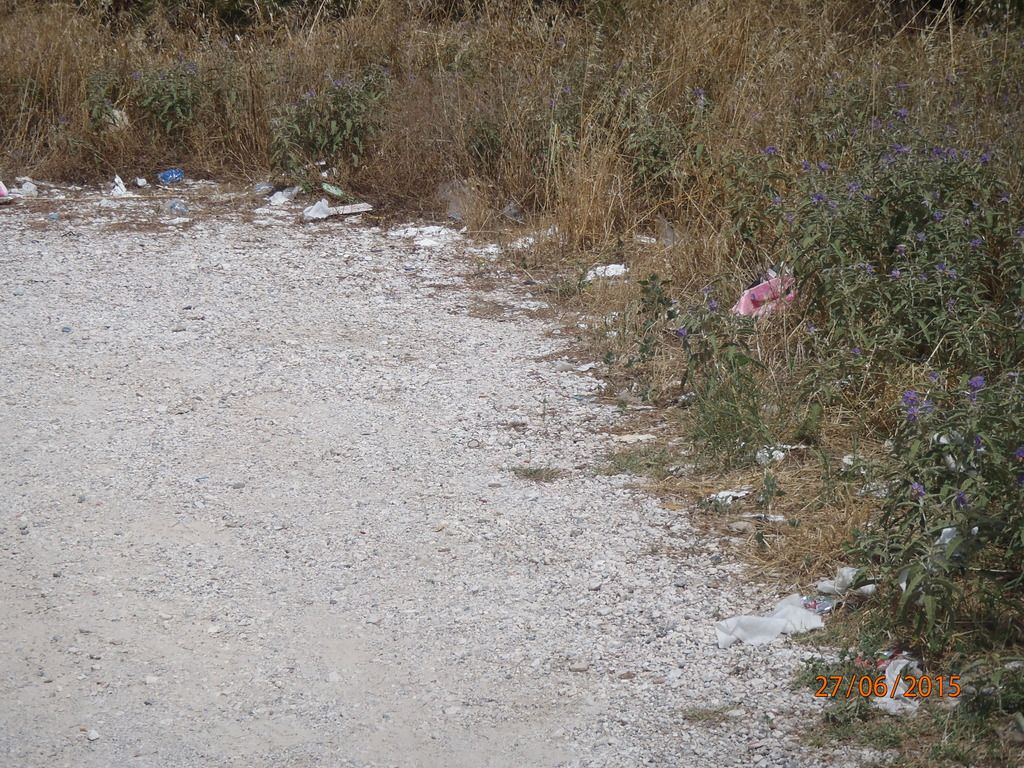 Pictures of flag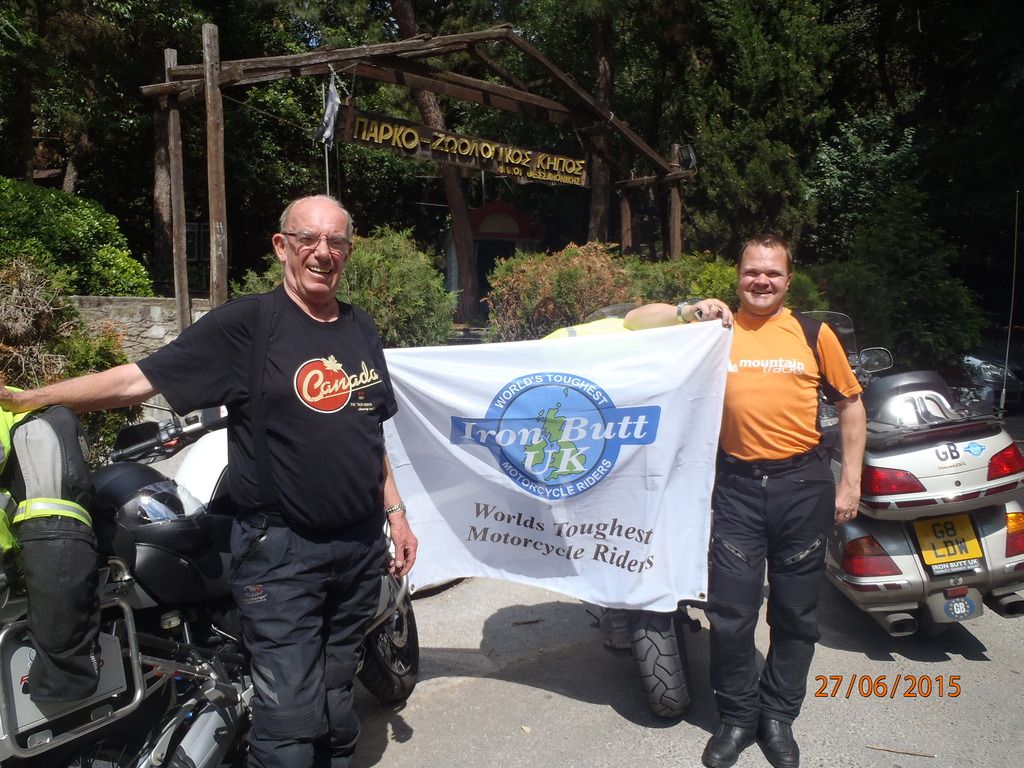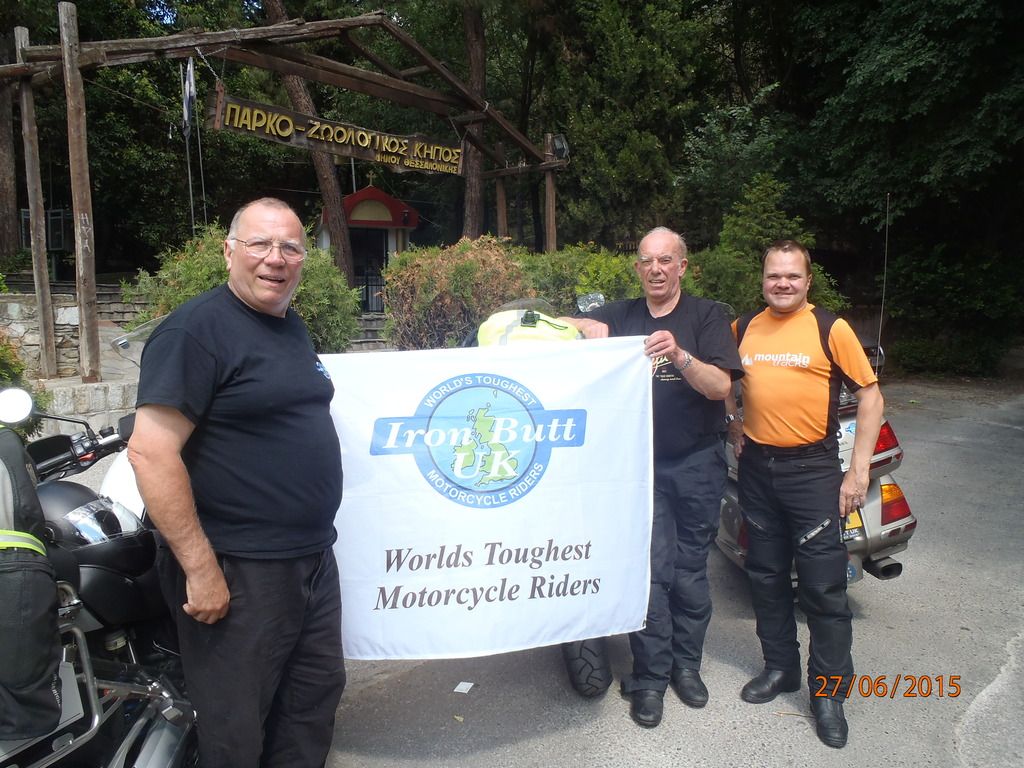 Then all of a sudden Wilf appears out of JB's pannier. So he hitched a ride home with me.
Official photos & patches given out, it was the short ride back to the garage to get the bikes parked. Then stroll round to the hotel to get them booked in and showered. There was a decent café next to the hotel so we agreed to meet in twenty minutes for a bite to eat and a few beers. After a good meal and 2 beers each we asked for the bill 23 euros each and that included a good tip, very reasonable.
As the others were leaving at 7am they decided to have an early night 8.30pm local time 6.30pm UK. There was nothing else to do so I decided to join them (we all had our own room by the way, JB was even in a different hotel just over the road so don't get any ideas)
Time for bed.
Day 4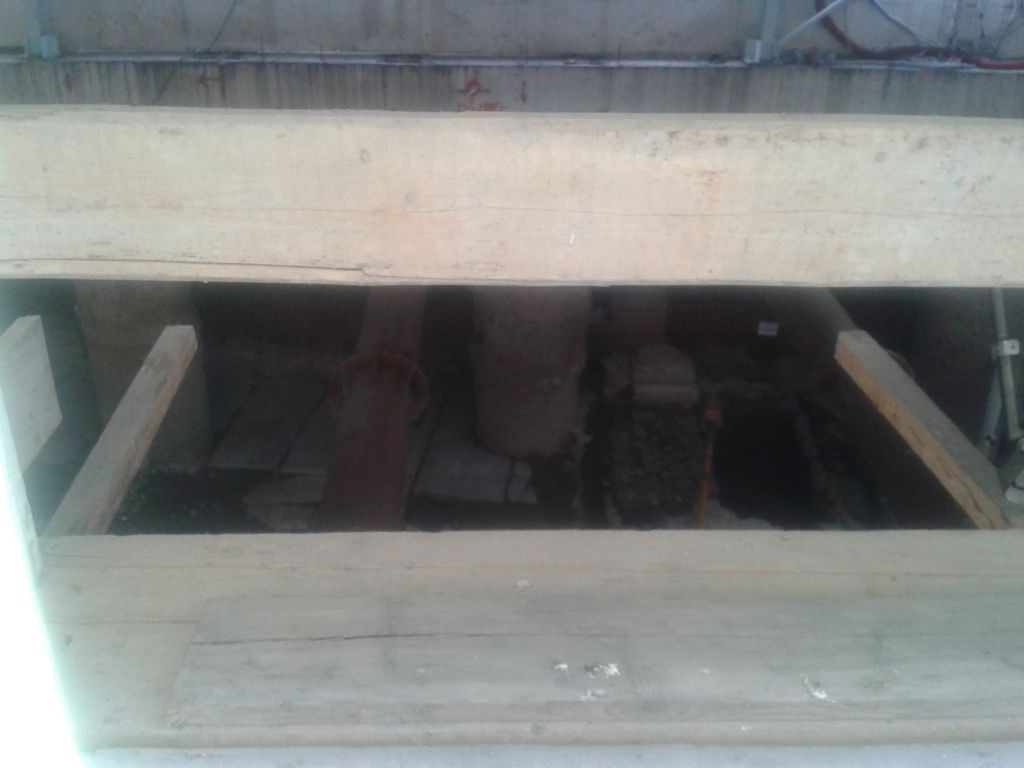 Pictures of remains.
I strolled on a little further and came to a small park with benches under some trees giving some shade. There were some stray dogs laying around and they were all very large, they were not bothering anyone. And people just ignored them. Then suddenly a small car pulled up by the side of the park. And two of the dogs leapt up and ran over barking furiously at the owner. He tried to get out of his car but the dogs would not let him. Other members of the public just carried on strolling by, who the dogs completely ignored. The chap in the car even drove another 50 yards up the road, but the dogs just followed him. He eventually drove off.
It was now time to head back to the hotel as the checkout time for the hotel and car park was 12 noon.
I set off in the dry and turned off the motorway onto a small bendy road that looked to be heading in the right direction. After about 10 minutes riding I came round a bend and there in front of me about a mile away, was a huge black cloud and sheets of rain. I checked the direction the road I was on and it was heading straight for it, so it was turn round and back to the motorway.
I arrived at Igoumenitsa with a 7 ½ hour wait. Had a bit of trouble finding my way to the correct ferry terminal as they have built a new one, and the road that the satnav kept trying to direct me down was closed due to being all dug up for resurfacing and new pavements.(it needed it!!!)
It was still very hot outside and the terminal building was air conditioned, so it was time to settle down in a bar/café for the long wait.
I was not the only one making use of the air-conditioning. Again there were a few stray dogs about all large. Must be survival of the largest?
Later in the evening when it had cooled down a little, I decided to go for a short walk about around the local area. There wasn't much to see and it was still hot, so I stopped in a bar that was empty apart from the barman/owner, to buy a 1lt bottle of cold water. When I came to pay the 1 euro price, I found I had no change and only a 10 euro note. The owner said he had no change so just gave me the water. I said I would probably by something else later and pay him then. As I was sitting there I realised that I was on the road that was closed, but there were quite a few cars and bikes driving down it in both directions. It seems that I was the only one who took and notice of the barrier and no entry road closed signs. I went to pay the owner for the water. He still had no change so said not to worry. I saw he had a 5 euro note, I gave him my 10 euro and told him to give me just that. He was a little reticent about taking 5 euros but I explained I wanted him to have it for trusting me and for being so generous.
Eventually the time came to make my way to the gate for boarding the ferry. When I got to the ramp there was a young Italian couple, who had spent the last 10 days touring round Greece on a 600cc Ducati.The chap only spoke a little English but his girlfriend was very fluent and translated. It took me a while to get him to understand that I had ridden from England to only spend one night in Greece and then ride home. But when he did he showed his respect. (Not bad for an old geezer).
We chatted on the ship which arrived 1 hour late, and agreed to meet in the morning as it was now time to try and get some sleep. As per the trip coming over it was far too noisy in the lounge, so I gave up to find a spot where I could get to sleep. I found the Iron butt hotel on one of the landings on the stairs up to the sundeck. On the landing just above me there was another couple of bodies fast asleep. As this was an overnight trip I guessed that not many people would be visiting the sundeck. I did manage to get a couple of uncomfortable hours sleep.
Day 5
When I woke up it was daylight. I crept up stairs past the other couple, to have a look outside. Only to find that the other bodies on the landing, was the young Italians. It was still very early in the morning with no land in sight. So I went back to the lounge to my seat where I could at least be comfortable. Later I meet up with the Italian couple and they asked why I was not going to ride the Amalfi coast as I was so close. I had already looked into doing this and it would have just taken me too late to get to my hotel in Brescia northern Italy that night as the ferry only arrived in Bari at 10.30am already an hour late. They did convince me to ride across Italy to Naples as the roads were much more scenic. I road with them knowing that when we got close to Naples I should see Mt Vesuvius, after one or two false alarms I spotted it, another one to cross off the bucket list. Just north of Naples we stopped for coffee and it was time to say our good byes. They took my picture standing by my bike, and I took theirs. I did suggest that they stood by my bike as it would make a better picture, being Italian and a Ducati rider he disagreed and preferred his Ducati.
Day 6
Here are some pictures of Switzerland.
I wanted to get a picture of an Alpine stream and when i got to a rest area that had one running along side it this was the best that I could do as it was fenced off. (and this was on maximum zoom)
Once I was in France the Satnav detoured me off the auto routes at Selestat towards Nancy on non-toll roads. This made a pleasant change and a chance to see the real countryside. I arrived at the hotel which looked very new and on a site just outside Verdun that was still under development and got booked in. Went to my room had another cold shower. After a bit of a rest it was time to go and find something to eat. There was a pub with a veranda just 100yards up the hill that looked fairly busy so off I went. My first priority was a drink so I asked if they had any local beers apparently 1664 is local there and they had another. I asked if they had any dark beers. The waitress said they could add a flavoured orange drink to the beer to make it dark. I had a little taste and it was OK.
Well after my second pint of orange flavoured beer I felt very light headed and just a little wobbly as I stood up to pay the bill and wander back down to the hotel. It was then that I checked the flavoured and found it was 18% proof.
I slept well that night !!!
Woke up and found a message from Eurotunnel advising me that the police were keeping a dedicated route open for Eurotunnel customers, and not to queue up with the freight traffic. As the French ferry workers were still causing problems. I had plenty of time to get to Calais so I decided to have a little look at the centre of Verdun.
I arrived in Calais with about 2 hours to spare just in case there were problems, and immediately came across a long line of Lorries waiting to get on the freight trains. I was waved on by the police to continue. This is how it continued for about 8 or 9 miles straight into the check-in area with very little traffic. I was booked on the 4.40pm train but was offered an earlier train at 2.40pm which I accepted (train H). I rode on to the point where you split to the train or the waiting area. The train that was currently being call was train J. The lady asked me what train I was booked onto. I told her train H, she said you may as well go on this one and waived me through.
Popped in to see a relative in St Marys Bay and a couple of cold drinks gratefully received, then the short ride home.
Checked my front brake pads yesterday and found they were worn down almost to the metal, I guess that riding approximately 8000 miles in just over a month will do that.
Thanks for reading this.